Not all breast cancer patients need to suffer from chemotherapy.
GenesWell BCT helps you to decide chemotherapy treatment by predicting probability of distant metastasis within 10 years.
Prognosis
Have you recently been diagnosed with early-stage breast cancer?
In general early-stage breast cancer patients with HR-positive and HER2-negative have higher survival rate.
Compared to other types of cancer, breast cancer has a higher survival rate. Especially, breast cancer patients with ER/PR+ and HER2- have good prognosis without chemotherapy.
5/10-year overall survival rates for breast cancer
(Patients in 2001~2012)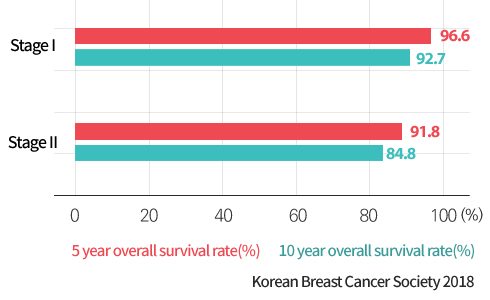 GenesWell BCT
GenesWell BCT predicts the possibility of
distant metastasis after breast cancer surgery.
The exact Prognostic Genes
Excellent Prognostic Algorithm

Differentiated biomarkers
Exact prognostic performance

Algorithm verification through independent clinical group
Better treatment decisions by predicting the risk of distant metastasis and chemotherapy benefits
Predict 10-year distant metastasis
GenesWell BCT offers risk of distant metastasis within 10 years. Low-risk group has low probability of distant metastasis and no chemotherapy benefit.
Check clinical study +
Predict Chemotherapy benefit
With chemotherapy, high-risk group from GenesWell BCT can lower their probability of distant metastasis.
Check clinical study +
GenesWell BCT vs. Other Prognostic Tests
Checkpoint
GenesWell BCT
O
M
P
E
Is the test validated against Asian patients?
o
x
x
x
x
Has the test been developed and validated for clear subtypes of breast cancer?
o
x
x
x
x
Does the test reflect clinical variables of patients?
o
x
x
o
o
Does the test reflect immune gene signature in breast cancer
o
x
x
x
x
Can the test cover all ages including patients at pre- and post-menopause?
o
o
o
x
x
Does the test predict chemotherapy benefit?
o
o
o
x
o
Does the test predict late recurrence (after 5yrs)?
o
o
x
o
o
How long does the test take upon receipt of Speciemen? (TAT)
7 days
2 weeks
2 weeks
2 weeks
2 weeks
Prospective trials
o
o
o
x
x
Hazard Ratio(high vs. low)
8.57
(2.80-26.25)
5.20
(2.70-10.10)
5.44
(1.82-16.28)
3.96
(2.18-7.20)
4.27
(2.74-6.67)
GenesWell BCT vs. Prognostic predictors
The index of concordance(Concordance-index) is a global index for validating the predictive ability of a survival model. The closer the index of concordance to 1, the more accurate the prognostic prediction.
We evaluated the prognostic accuracy using C-index for BCT score and clinicopthological models. C-index of BCT score is 0.81 which means BCT score offers better prognostic performance than other clinical factor-based prognostic predictors.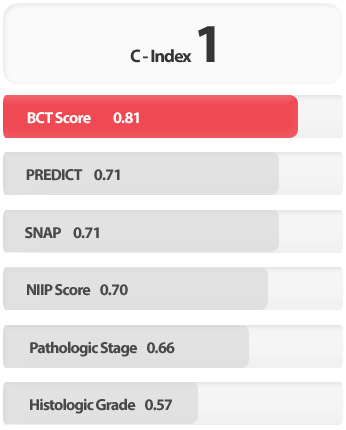 PREDICT, SNAP, NPI Score: These are online predictive models that predicts prognosis based on the patient's clinical information such as age, tumor size, number of positive nodes and histological grade. They predict survival rates based on statistics for similar types of patients.
Pathologic stage: The pathological stage is based on how different from normal the cells in the samples look under a microscope.
Histologic stage: This is a description of a tumor based on how quickly the cancer cells are likely to grow and spread.
Target patients
Check if you need GenesWell BCT
GenesWell BCT is intended for early-stage breast cancer patients who have HR-positive, HER2-negative with fewer than 3 positive lymph nodes.
BCT Score
What is my prognosis score?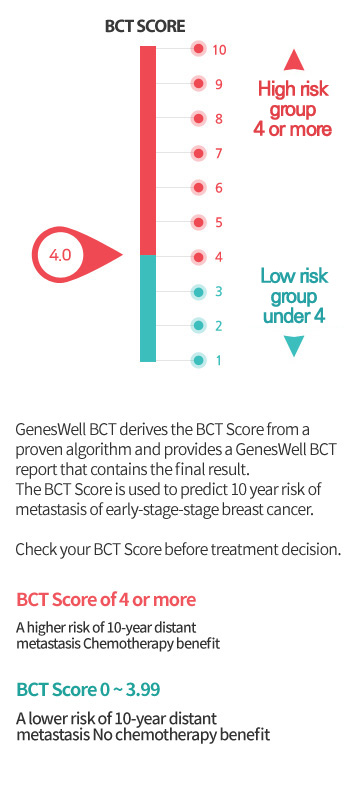 GenesWell BCT report provides probability of distant metastasis according to the BCT Score.